Ceramic Gaming Chips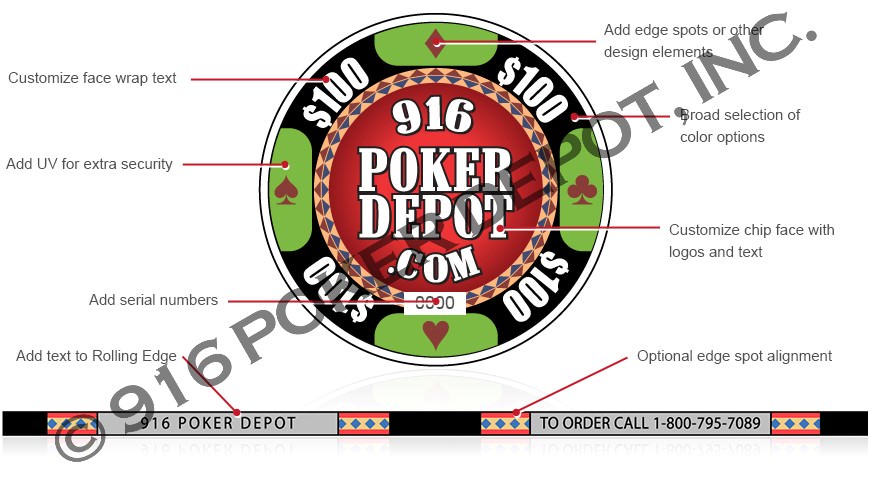 Our ceramic gaming chip combines full color graphic design and customized edge printing on a single proprietary composite material. Each chip weighs precisely 10.5 grams and is available in many sizes. We offer 39mm in 10.5 grams, 44mm in 13 grams, 47mm in 15 grams and 44MM Octagon 13grams.
Security Features:
Ultraviolet Security
We have the ability to incorporate intricate UV images on the face and edge of our chips. A black light is then used to read the UV images to verify the authenticity of chip which provides an additional level of security. Products with our UV protection technology deter counterfeiting efforts. For a more sophisticated UV option we have the ability to add UV patterns and UV micro print to the chip faces for automated machine authentication.
Edge Customization
The ability to print images and words on the edge of the chip is a complex process that only an elite few have mastered. Our edge printing process enhances the security and anti-counterfeiting efforts of our chips by utilizing text, UV, and laser engraving. Go the extra mile and add edge face alignment to make an even more secure chip.
Surveillance Advantage
All of our security features help assist the casino surveillance team with chip value identification helping to eliminate pay-out errors at game tables and cashier stations. Other available options include serial numbering, bar codes, and QR Codes.
Custom Molds
Our newest security measure allows us to microscopically etch any logo or design directly into the chip's face. Custom molds are also available to not only increase security but supplement your branding efforts by having your casino name or logo molded directly into the face of the chip.Additional security measures can be taken using our mint mark detection, pattern recognition, and micro-print detection technology.